Shannon and I went to a really chic baby shower last night at a wine bar. It was a semi-casual affair, being the mom's second child, and was a great excuse to get together with friends and enjoy some adult beverages and yummy food, and celebrate the baby girl-to-be.
When I was getting dressed for the occasion, a dress was calling my name but I couldn't quite find the type of dress I had conjured up in my head. It was a warm evening, and the event started at 6 PM so what I wanted to wear (that sadly was not in my closet) was a Springy and special outfit that was worthy of this fun and celebratory event. The night called for one of those "in between" ensembles: I didn't WANT to wear jeans (although I did) but a sexy LBD wasn't the right outfit either.
Ultimately, I ended up wearing an Equipment eyelet silk blouse, tucked into Paige skinny distressed jeans with embroidered ankle strap pumps (although never planned, Shannon and I showed up looking like twins). The look worked...but it made me realize that I wanted to dedicate this week's Friday Buy Day to cool pieces that could work for a stylish day ensemble (work or lunch, etc) and could also work for something like an evening baby shower at a bar.
Here goes...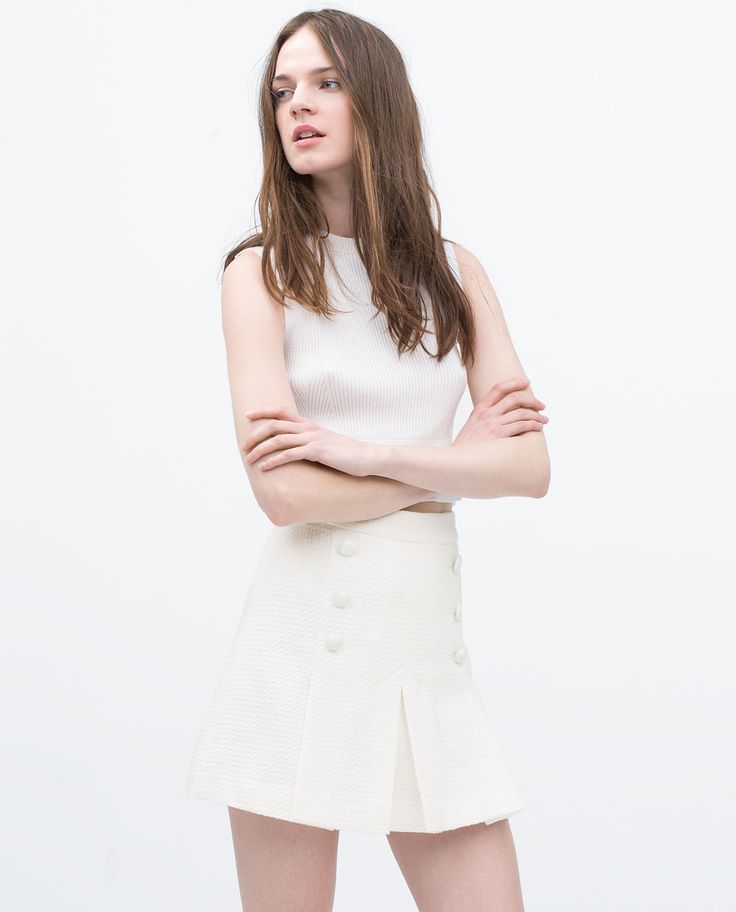 I love this look (the blouse from the top pic, the skirt from the bottom pic). The boxy cotton top with the cool drawstring detailing on the side with the eyelet pleated mini-skirt. It is a fresh, modern and on-trend. This outfit is work appropriate if you work in a creative capacity (sorry Finance girls) as the mini-skirt is really not that mini unless you are quite tall and the blouse provides full coverage. Pair it a gladiator style sandal or platform wedges (yes, they're back in a big way for Spring) for a daytime fete, or up the volume with black ankle strap heels and deco drop earrings for an evening event. All white is here to stay and this whole outfit is under $150...now it's just the tan I have to start working on.
This floral dress from Asos caught my eye because of the playful print and the sophisticated shape. This is another piece that, depending on how it is styled, can be more conservative, or more edgy. For a conservative luncheon, it looks great as shown: simple heel and a nude, pouty lip. For a night celebrating at a cool wine bar, I would up the edge factor and pair it with booties (those Isabel Marant ons that were suggested awhile back...on sale of course..would be great) and a black leather moto jacket. Saturate your lip in a dark raspberry or classic red and be on your way.
Come On! The last time I was this excited about a tube top was 1999. I am dead serious...they were in heavy rotation during my days at USC. But, now that I'm a grown-up, I am thrilled to find that the Australian designers at Camilla and Marc have designed an elegant and sophisticated strapless top. If you look closely, you can see the asymmetrical belt and the soft draping of this awesome piece.
I absolutely love the idea of it paired over wide leg trousers, and the polka-dot ones shown in the picture are a steal from Asos priced at $81. Long over long is a big trend right now and this ensemble feels very modern and current without feeling trendy. This would've been the perfect outfit to wear last night! For an edgier look, I love this strapless blouse over leather leggings with a cropped blazer. Right now, all sizes are available except 44 and it is on sale for $185 from $370.
Hope you enjoyed this week's picks and feel free to enter your email address if you'd like to get these tips delivered directly to your inbox.